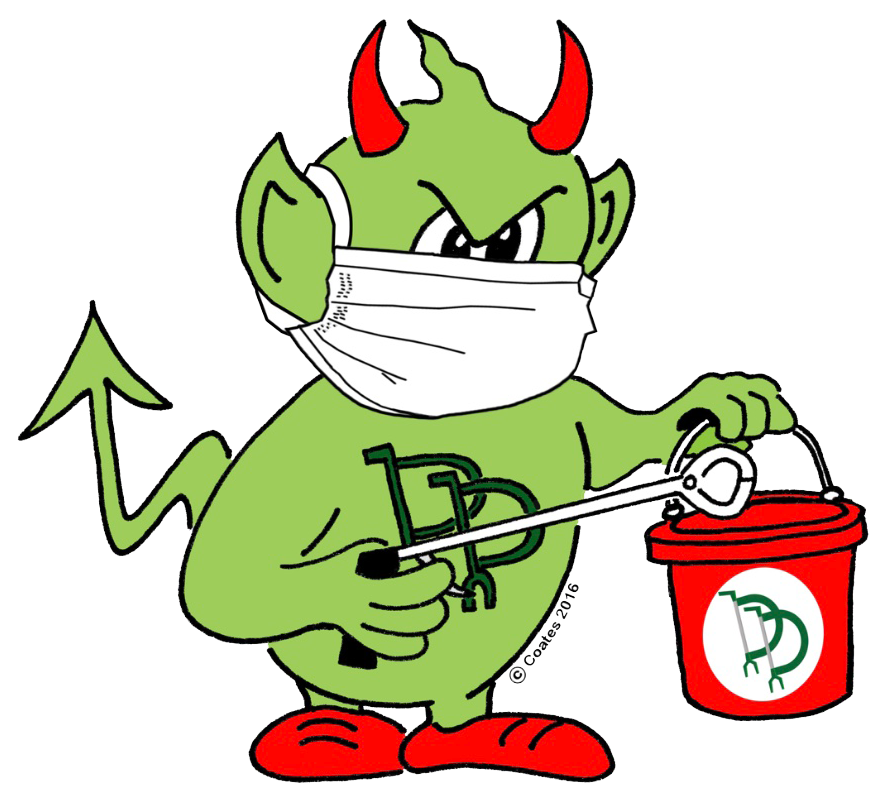 Health & Safety Guidance
before, during and after each litter pick
COVID-19 Please take note of all Government advice and guidelines
on outdoor activities and in particular the numbers of persons who can meet
outside at any one occasion so both yourself and others around you are as safe
and healthy as possible. These guidelines/rules can change overnight so it is important
to keep yourself fully updated at all times.
USP (Unaccompanied Solo Pick) is solo litter picking or with your partner/family and/or with DD friends
rather than large organised group picks. We each decide when and where we wish
to litter pick, depending on how much time we have spare and the current
weather conditions. Its super important we do this DD activity in as safe a
manner as possible and make full allowance for everyone and anything else around us.
Remember we each litter pick at our own risk so safety first always.
Here is our recommended advice and guidance that, along with common sense, should keep you out of harm's way.
Important to say Dorset Devils Voluntary Group will not be responsible for any injuries or damages to you or caused to others or anything resulting from participation in this activity.
Protective Clothing and Equipment
Anyone taking part in a litter pick must use the following items at all times:
Reflective hi-visibility waistcoats to clearly highlight the litter-picker to traffic and pedestrians.
Gloves to minimise contact with any noxious or dangerous materials. Sturdier the better.
Wear sturdy shoes/boots (flip-flops/sandals not recommended) and weather appropriate clothing.
Litter picking kits Issued by us will include a hi vis vest, litter picker, gloves, bag ring and bags or bucket and sharps box-demonstration provided when you come to obtain your DD kit and then take part in your supervised mini litter pick offering practical advice and guidance.
Potential Hazards
Noxious and Dangerous Materials – The following materials may be encountered during litter picks and you should treat them with extreme caution:
Broken glass and other sharp objects. Gather only using your litter picker or with a handy brush and dustpan if shards of glass (not standard DD kit). If you can place the broken glass inside a container i.e. discarded coffee cup and then put into your plastic bag that would be safer. Take extreme care and avoid causing any harm to yourself or others afterwards.
Drug related litter and hypodermic needles. If you are willing to gather this type of waste, ensure it is safely placed inside your sharps box you obtained at your DD induction. Alternatively, place in a temporary container such as a water bottle, cap it and when you get home safely place in your sharps container and store in a secure site. At all times use your litter picker to gather this waste- never handle. Don't place a naked needle inside a plastic bag or into any general waste bin as this would be hazardous to yourself or others. If you do not wish to deal with this type of litter, make a note of the location (photograph on your phone) and then notify BCP Council on their website or ring 01202 451199.
If you get a needle puncture wound encourage the wound to bleed. Do not suck it. Wash the wound but do not scrub it. Cover the wound. Go to A & E immediately.
PPE Litter. Gather this litter with extreme caution.
Dog and faeces waste. Bagged dog waste can be placed inside any general waste bin (no need to search for a dog waste bin- very few exist these days). Any naked dog or human waste should be reported to BCP Council via their website. Record location to assist with its retrieval.
Suspect materials and fly tipping. You should not remove items you suspect as dangerous, poisonous or hazardous, such as unknown liquids in containers, drums, canisters, building materials, asbestos or fly tipping. Note the location (photograph if possible) and call the Environment Agency (0800 80 70 60) 24- hour hotline. It will then be booked in for specialist removal. If you are in any doubt about any item, leave it and report it.
Witness fly-tipping. Call the Police. Take note of registration number and stay safe.
Old bombs or explosives on the shoreline- do not touch, cordon off area and call the Coastguard (Dial 999)
Disposable BBQs and any fire debris. Be wary in case still hot.
General Site Safety and Inspection
Litter picking by the side of roads or in car parks must be carried out with extreme caution, due to the risk of being injured by vehicles yourself or causing damage and injury to a member of the public or their property. Only litter pick where there are wide verges or pavements and face oncoming traffic when you are doing this. It is essential that you are visible to road users, and therefore you must wear hi-vis vest and only do this in clear daylight.
Dual carriageways and motorways

are the principal responsibility of the local or county council to maintain and control. As these are high risk sites with speeding vehicles, permission would not be granted for members of the public to litter pick, however well intentioned your actions are. Feel free to report litter issues to the appropriate authorities.

Do not attempt to remove litter from roads.
Avoid reaching into hedges or undergrowth in such a way as to expose your face, eyes and skin to scratches from thorns or branches. If you cannot reach an item with your litter picker, then leave it.
Avoid working close to rivers or on steep slopes or scale fences where there is an increased risk of falls and slips. When you are working close to ditches, avoid reaching into the ditch to remove litter unless it can be safely reached with a litter picker.
Private/Council land. Be mindful of clearing litter from these sites without permission.
Be aware of wildlife. Avoid disturbing animals and birds that may be nesting in the spring, and avoid wasp and bee nests in the summer. Be considerate. Do not disturb animals or damage plants. Don't remove "natural" rubbish like logs, stones and weeds – they can be "home" to animals. Don't try and release entangled animals; call the RSPCA if you come across any. Do not attempt to remove dead or live animals.
Do not enter an area, or attempt to litter pick any areas, where works are restricted, or where workmen are already in place, or where the public do not have a right of entry.
Always use your picker to gather litter and avoid the temptation to use your hands even if gloved.
Lifting and Handling Materials
Be aware of the risk of injury caused by carrying bags of collected litter and
by attempting to lift and carry heavy materials. To avoid injury to yourself
you must apply the principles of manual handling, as follows:
Use litter picker to prevent constant bending and stretching.
Make sure that an item is safe to handle with no sharp edges or noxious contents.
Decide if an item can be safely removed by either one or two people.
Rubbish should not be compressed using hands as this can accidentally puncture the skin.
Avoid contact with the body when carrying plastic bin bags.
Avoid touching your face whilst litter picking.
Ensure any cuts or abrasions are clean and covered with a waterproof plaster.
Do not overfill bin bags and avoid lifting heavy objects or sacks alone.
Only try to remove an item if this can be done without straining.
Bend your legs and keep your back straight when lifting an item.
Litter gathered by you technically becomes your responsibility until placed safely inside a bin. Only leave tied up bagged litter next to council bins by prior arrangement. Ensure they do not become an impediment to members of the public or attract wildlife.
Don't overdo it. Save your energy for another day. Remember Rome wasn't built in a day. Discarded litter will likely still be there the following morning.
Other hazards to consider
Trips and falls if working on uneven ground or where the ground level drops.
The time of day that you carry out the activity e.g. the middle of the day in the summer may be too hot with a risk of sun burn. Daylight is better than dusk.
Be mindful near the water's edge i.e. on the beach or by any river, lake, stream, pond, puddle etc.
Do not undertake a litter picking task in foggy, misty, light drizzle or rain conditions which might impair vision.
Dog foul and other unclean articles or materials.
If there are children involved 
Arrange adequate supervision for children – at least one adult per 6 children. It is parents responsibility to make sure your child stays safe at all times.
Ensure that as a parent or guardian you know what clothing and footwear your children need to wear.
Ensure that you are aware of any relevant medical conditions affecting any of your children.
Try to limit the amount of time litter picking to 1-2 hours.
Plan breaks, wash hands or use sanitiser/gel.
On the day
Be aware of your environment and do not put yourself at risk whilst picking up litter. Respect everyone else outside at the same time.
Do not confront people whom you might witness littering.
Clean hands, equipment, footwear immediately afterwards and store kit safely away and then wash hands again.
With all the above in mind litter picking is a very relaxed, enjoyable and rewarding activity, affording you fresh air and gentle exercise with many opportunities for social interaction (less so during a Pandemic!) and greatly helps your well being. In most instances it's a very safe activity but you simply need to be aware of your surroundings, be mindful of everyone around you and monitor weather conditions etc. Remember you decide where you 'devil' around and what you pick up. Basically the DD maxim is, if in doubt, don't.
Thanks for caring, thanks for doing & thanks for making a positive difference.